Data protection – GDPR
You are completely right. It is a good idea to have a look here. If we offer data protection as one of our services, everything here should be watertight. Trust is good – control is better. Just as we would do.
If you are happy with what you can see here, just get in contact and we can thoroughly discuss your project together. And if there is something you don't like? Just get in contact anyway. We are always open for new ideas. Thank you in advance!
Name and Contact Details of the Data Controller
This data protection information applies to data processing by the lawfirm RT.
Controller:
RT Kanzlei für Recht und Steuer (hereinafter RT-RS).
Robert Tille, Lawyer, Specialized Tax Lawyer
Unterfeldring 27, D- 85256 Vierkirchen, Germany
Email: kanzlei@rt-rs.de
Telephone: +49 8139 99891-0
A Data Protection Officer is legally not obligatory for this lawfirm.
Collection and Storage of Personal Data and Form and Purpose of utilization
a) When visiting our website
When visiting our website www.rt-rs.de, information used by the browser on your device is automatically sent to the server hosting our website. This information is stored temporarily in a log file. The following information is collected in this process without any manual input from you and will be stored until automatic deletion:
IP address of the accessing computer,
date and time of access, name and URL of the file accessed,
name and URL of the file accessed,
website from which the access request originates (referrer URL),
The browser used and, as the case may be, the operating system of your computer and the name of your access provider.
We will process the aforementioned information for the following purposes:
guarantee of smooth establishment of connection to our website,
guarantee of comfortable use of our website,
evaluation of the system security and stability and
other administrative purposes.
The legal basis for data processing is Art. 6 (1) point (f) GDPR. Our legitimate interest follows from the purposes of data processing that are listed above. Under no circumstances will we use collected data to draw conclusions regarding your person. Furthermore, we do not use analysis-tools and do not use website cookies when you visit our website. You can find further explanations in Clauses 4 and 5 of this Privacy Policy.
b) When registering for our newsletter
If you have given consent pursuant to Art. 6 para.1 a GDPR, we will use your e-mail address to send you our newsletter on a regular basis. Entering an e-mail address is sufficient to receive the newsletter. You can unsubscribe at any time, for example using the link at the end of each newsletter. Alternatively, you can also send your unsubscribe request to kanzlei@rt-rs.de at any time. The data will only be stored and used for sending the newsletter. The disclosure of registration data for purposes other than sending the newsletter is not intended.
Data Disclosure
Your personal data will not be disclosed to third parties for any purposes other than the purposes listed below. We will only forward your personal data to third parties, if:
you have given explicit consent in accordance with Art. 6 para. 1a GDPR,
disclosure is necessary pursuant to Art. 6 para. 1 f GDPR in order to assert, exercise or defend legal claims and if there is no reason to assume that you have an outweighing protectable interest in the non-disclosure of your data,
case of a legal obligation to disclosure in accordance with Art. 6 para 1 c GDPR, as well as
doing so is legally permissible and, pursuant to Art. 6 para. 1b GDPR, necessary for the execution of contractual matters with you.
Cookies
We do not use cookies on our website.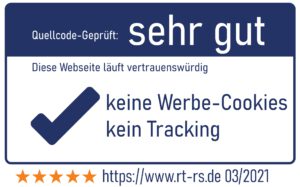 Analysis-tools
We do not use analysis-tools (e.g. Google-Analytics etc.) on our website.
Rights of Persons Concerned
You have the right:
pursuant to Art. 15 GDPR, to access information about your personal data that we process. In particular, you may ask for information regarding the purposes of processing, the category of personal data, the categories of recipients towards whom your personal data were or are disclosed, intended storage period, existence of a right to rectification, deletion, restriction of processing or objection, the existence of the right to file a complaint, the origin of your data if they were not collected by us, as well as the existence of an automatic decision-making process including profiling and, where applicable, conclusive information regarding details;
pursuant to Art. 16 GDPR, to request the immediate rectification or completion of your personal data that we have stored;
pursuant to Art. 17 GDPR, to request the deletion of your personal data that we have stored unless processing is required in order to exercise the right to freedom of expression and information, to comply with a legal obligation, for reasons of public interest or in order to assert, exercise or defend legal claims;
pursuant to Art. 18 GDPR, to demand the restriction of processing of your personal data insofar as you challenge their accuracy, if processing is unlawful, but you object to their deletion and if we do no longer require the data, but you require them to assert, exercise or defend legal claims if you have objected to processing pursuant to Art. 21 GDPR;
pursuant to Art. 20 GDPR, to receive the personal data that you provided to us in a structured, commonly used and machine-readable format, or to request their transfer to another data controller;
pursuant to Art. 7 para. 3 GDPR, to withdraw at any time any consent you granted us. This will have the consequence that we will no longer be allowed to continue any data processing that was based on this consent in the future and
pursuant to Art. 77 GDPR, to submit a complaint to a supervisory authority. Usually, you can contact the supervisory authority at your place of residence or work or the supervisory authority at the registered office of our lawfirm.
Right to Object
If your personal data are processed pursuant to Art. 6 para. 1f GDPR on the basis of legitimate interests, you have the right, pursuant to Art. 21 GDPR, to submit an objection to the processing of your personal data insofar as the appropriate reasons exist which arise from your particular situation or if the objection is aimed at direct advertisement. In the latter case you have a general right to object, that we will implement without indication of any particular situation. If you wish to make use of your right of revocation or objection, simply send an email to kanzlei@rt-rs.de.
Data Security
When you visit our website, we use the common SSL procedure (Secure Socket Layer) in combination with the respective highest degree of encryption that is supported by your browser. This usually is a 256-bit encryption. If your browser does not support 256-bit encryption, we will transmit the website in unencrypted form instead. You can see whether individual pages of our website are transmitted in encrypted form by the "encryptet" icon of the key or lock symbol in the lower status line of your browser. Apart from the above, we use appropriate technical and organisational security measures in order to protect your data against accidental or deliberate manipulation, partial or complete loss, destruction or access by unauthorised third parties. Our security measures are subject to continuous advancement according to technological developments.
Timeliness and Amendments to this Privacy Policy
This Privacy Policy is currently applicable and was last amended in June 2022. Due to our website and related services being developed further or amended legal respectively official stipulations, it may be necessary to amend this Privacy Policy. You can view and print out the currently valid privacy policy on our website at www.rt-rs.de/en/data-protection/ at any time